The "Forrówelt" - DNA is all about INSPIRATION. It means to think differently about topics, present concepts, question existing doctrines, maybe provoke. Inspiration goes along with smaller and bigger revolutions. Maybe the blog changes nothing, maybe it changes one opinion or maybe many. That doesn't matter. The forróblog is not made for changing people, it is made for introducing ideas. Everyone decides if an idea will change his mind and how...
---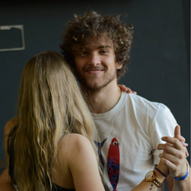 About the author: 
I am Philip, 25, crazy for forró. Forró is like a button for me: when you push it, I am starting to smile and to dance.
In terms of forró organisation I call myself an ambassador. I am not superior than others, however I want to share my ideas and the happyness of forró. Forró can change a lot. I experienced some of that changes in my own life, but as well in others. 
I am extremly curious and motivated to discover more in dance and life.
Outside of Forró-life I studied sports science at the German Sports University in Cologne. It is there that I met Forró the first time. Furthermore I am a professional soccer player which is the reason for having changed my places so often.